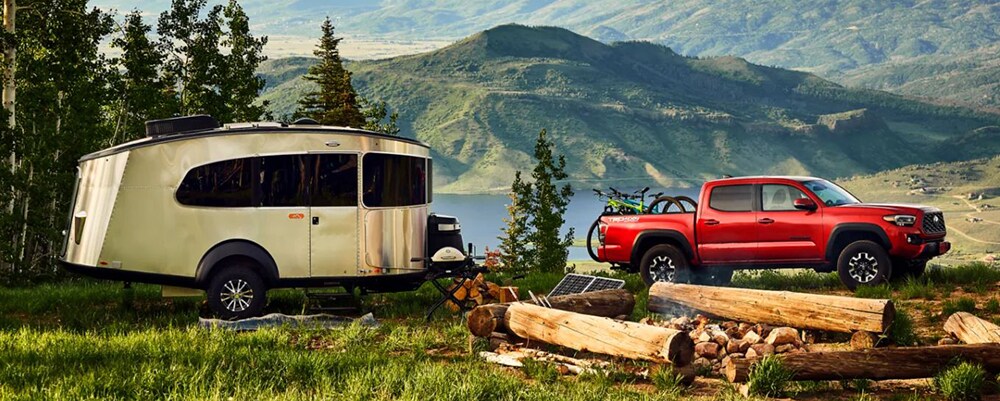 The Toyota Tacoma is considered a mid-sized truck perfect for camping in rough terrain. Introduced into the market in 1995, it is the best-selling midsize vehicle in the United States due to its towing capabilities. The Toyota Tacoma was smaller when it was first introduced in the market. In 2005, it later grew in size in its second generation. The third generation introduced in the market in 2016 came with significant performance improvements. The 2021 model comes with a 2.7 four-cylinder engine capacity and is one of the most fuel-efficient off-road trucks in the market. It also boasts up to 180 pound-feet torque. It comes with a large model with a 3.5-liter V6 with 278 horsepower boasting a 265-pound torque. The standard drive is rear-wheel drive with the option of getting a four-wheel drive. Its power is seen in its automatic six-speed transmission with a manual available only for TRD trim. Durable, it is a decent compact truck with many off-road capabilities, especially in the TRD manual models. It asserts itself as a truck with good hauling capabilities, recommended for a family loving to camp.
Tacoma Features
Hauling Capability
A standard four-cylinder Tacoma can tow up to 3,500 pounds. The larger TRD manual version can tow up to 6,400 pounds with the larger V6 engine. Driving the vehicle is easier even on extremely rough terrain with a steady drive feature on the trailer sway control. Its capability on the V6 engine can top to 6,800 pounds if the rear-wheel-drive truck is driven in a more stable terrain. With six trims available in the market, the bigger the truck version, the better its hauling capabilities.
Rim Diameters
The Toyota Tacoma is a medium-size truck offering up to six trim levels. The SR, TRD Sport, SR5, TRD Off-Road, Limited, and the TRD Pro. Rear-wheel drive is standard, with only a few options offering a four-wheel drive. Off-road camping enthusiasts who have large trailers can get after-market rims to increase tire width to 315mm. However, the fenders have to be trimmed to stop the tires from rubbing. The standard tire width is 285mm, which manufacturers recommend ensuring maximum balance.
Size
The Toyota Tacoma is a popular midsize truck for many campers. Although smaller than its nearest competitor Honda and Tundra, it stands at 70.6 inches tall and 75.2 inches wide for most of its trucks. It depends on the cab size as the access cab has two doors, and the double cab has four passenger doors for front and back row passengers.
Should You Buy a Toyota Tacoma?
The answer is a resounding yes if you are looking for a truck that seamlessly tows a trailer. However, when calculating how heavy the trailer is, care should be taken and weighed only after everything has been loaded onto it. There are several trailers that a Toyota Tacoma can safely tow. Invest in one that has complete amenities like full bathrooms and an indoor water tank. However, before purchasing a Toyota Tacoma and having questions about which model to choose or wheels to replace,
contact us
and speak to a member at Rice Toyota today!