Rice Toyota Service Department
Flexible Payment Plans
For Auto Parts & Service
Ask your Rice Toyota Service Advisor for more financing details.
View Finance Options
Service Contact Information
Phone Number:
Service Hours:
Mon - Fri
Sat
Sun
7:00am - 7:00pm
7:00am - 6:00pm
Closed
Service Location:
2630 Battleground Ave
Greensboro, NC 27408
Welcome to our Toyota Service and
Repair Center
If you are looking for the best auto repair and maintenance in Greensboro, North Carolina, Rice Toyota should be first on your list. We specialize in repairing all makes and models and have a team of certified technicians with years of experience to get your car repaired and back on the road quickly and safely.
Finding an auto mechanic in Greensboro that you can trust for all of your car repairs and maintenance is key to making sure your vehicle stays on the road for as long as possible. Rice Toyota strives to make sure every service visit is a positive experience. Use our online service scheduler to make an appointment, and we will even provide you with a complimentary UBER, making your service visit easier than ever.
At Rice Toyota, our certified Toyota technicians take great pride in providing Triad Area drivers with quality workmanship and superior service when they bring their vehicle in no matter how big or small the auto repair is.
Schedule Service
Why you'll love Rice Toyota
Service & Repair
Rice Toyota is proud to offer Greensboro area car repair service customers some of the best values, facilities and customer rewards in the business. Everyone on our service team has one goal in mind: to exceed all your expectations. There are lots of other great reasons to bring your car to Rice Toyota for service including:
Complimentary bikes and easy access to explore the Atlantic & Yadkin Greenway.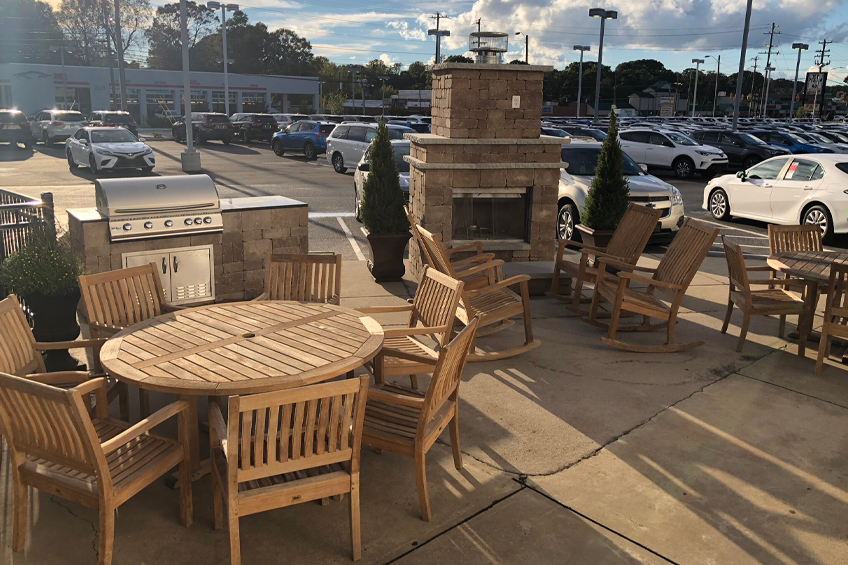 Relaxing outdoor patio and grill area.
- Customer Service Representatives available to check on you and your vehicle every 1/2 hour while you wait in a covered, climate-controlled drop off and pick uparea.
- Upscale waiting area with different seating options including work tables and armchairs.
- 20 charging stations in customer lounge for phones, laptops and tablets.
- High-Speed WiFi
- 30+ Complimentary Gourmet Coffee, Espresso, Latte, Tea and Hot Chocolate Beverages.
- Toyota Rentals cars available.
- Late Night / Early Morning Drop off.
- Service Loyalty Rewards Program.
Virtual Car Inspection
Receive a personalized walk‑thru video of your vehicle's condition with every repair. Our service technicians will bring you under and around your vehicle to show you its current condition, as well as keep you informed of anything that may need attention in the future, to keep you driving safely for miles to come.
"I have used the service center for more than 10 years. They have serviced several vehicles. I have been very pleased with the quality service provided."
Rice Toyota Service Center: a trusted and reputable resource for all your Toyota car maintenance and auto repair needs.
Employing the most experienced and qualified technicians in the Greater Greensboro area, our service center ensures quality auto repair and service each and every time, regardless of the repairs needed. Our team of experts can handle your car repair from diagnostics, auto A/C repair, wheel alignments, and battery replacement. If you are in need of prompt, exceptional car repair, choose our family-owned auto repair facility in Greensboro. Whether the repair is for a sedan, truck, or SUV, we have the staff, tools, and expertise to fix it right the first time, and we will even provide a complimentary UBER so you won't have to wait at the dealership.
Greensboro Auto Repair Service.
With a history of over 55 years in Greensboro, Rice Toyota is available to handle all of your auto repair needs. Don't chance your vehicle repair with "discount" facilities for your vehicle or unexperienced shops. Visit Rice Toyota for fast, reliable vehicle repair service in Greensboro. We fix all makes and models while providing efficient and quality repairs.
A vast menu of repair services in Greensboro.
Our Greensboro service center prides itself on the ability to handle all our Greensboro customers' car maintenance and auto repair needs. From simple oil changes to more complex engine repairs, our certified auto repair technicians are prepared to handle any auto service necessary when you walk through our doors. Some of the services we provide to our Greensboro auto repair customers include:
Tire Rotations & Balancing.
Oil Changes.
Engine & Transmission Repairs.
Coolant Flushes.
Air Filter Replacement.
Battery Inspection & Replacement.
Headlight Replacement.
Brake Repair.